homepage
NOKUKO - Creative space
Looking for anything specific? Use our search function
Our artists
Click to see their collection
PICK YOUR ART PRINTS
PAY VIA SECURED AND TRUSTED E-COMMERCE WITH CREDIT CARDS, APPLEPAY AND PAYPAL.
WORLDWIDE SHIPPING WITH QUICK DELIVERY - FREE SHIPPING OVER 135€ - USE CODE_ FREESHIPPING
Plus many more options via Stripe & Paypal.
---
top Bestsellers from our entire collection
New arrials to our collection
art highlight
Devotion - listen series - Limited edition by ALAN PEDERSEN - ALANTHEROCK
Devotion - Listen to You, is part of the Listen, a Fine Balance series.
Devotion is here defined as the true feeling of care and sympathy for you and your being. Devotion from people, who love and care about you.
It's shown in several ways - The appreciation of you and them. All have different ways to communicate and not all are done obviously. But devotion does still exist. It can come from present people in your life, such as family, friends and partners. But it can also still comes from people, who are not yet in your life or former relations. Perhaps they might have tried to communicate with you. It's always easy to point fingers - but if you instead go with the idea, that you both at some point loved each other. Devotion can be found in many places.
Sometimes it's worth stopping up and listening to people around you.
Each art piece is handcrafted from scratch. A creation in mixed media - it's created in various media and composed into these unique art pieces.
Hand-drawn lines and added texture from different photographs. This contributes to more depth and the correct personal style. Hand-drawn shadows have been overlaid afterwards. The background itself was created from graphic colour, a bit of watercolour and texture.
All Limited Edition art pieces have the artist's signature and are marked with 1/300 - this means 1 print of the 300 prints in the series. A donation will be given to plant 2 trees for each print sold.
The art print is printed on Fine Art Freja paper 265 g to provide the best quality and to emphasise the colours. Every art print is marked with Alan Pedersen – Alantherocks signature.
Find more art from the same art series.
---
This is our stories
Alan pedersen - Alantherock
Ever since he was a child, Alan Pedersen, also known as Alantherock, has used the visual expression as a way to reflect and balance his thoughts. Especially during difficult times, it has been beneficial for him to step into the creative mindset. One of these difficult periods in his life became a turning point and contributed significantly to the fundamental idea of NOKUKO - an entrepreneurial passion project echoing Alan Pedersen's belief that dreams are here to be realized.
flying fuck
Flying Fuck is a collaboration between several artistesses & artists around the world. Unknown as part of the concept to emphasise the brand's unity. The framework is that there are no frames - no restrictions, no bullshit, no specific art style. Where there basically can be created anything without any limitations. It's all about equality, diversity, women empowerment, empathy, self-love and breaking barriers
pública rework
Publica Rework builds on the concept of creating and extending the art value. They intend to create new art based on currently made art, with respect for the old art pieces and the artists behind them. In their own words_ "Remixes, mash-ups, remastering, and reworks are usual in other genres of the art world, for example in music and games (which we also consider some to be artistic masterpieces).
---
---
Looking for a way to reach out to us?
look no further and click on the picture below
homepage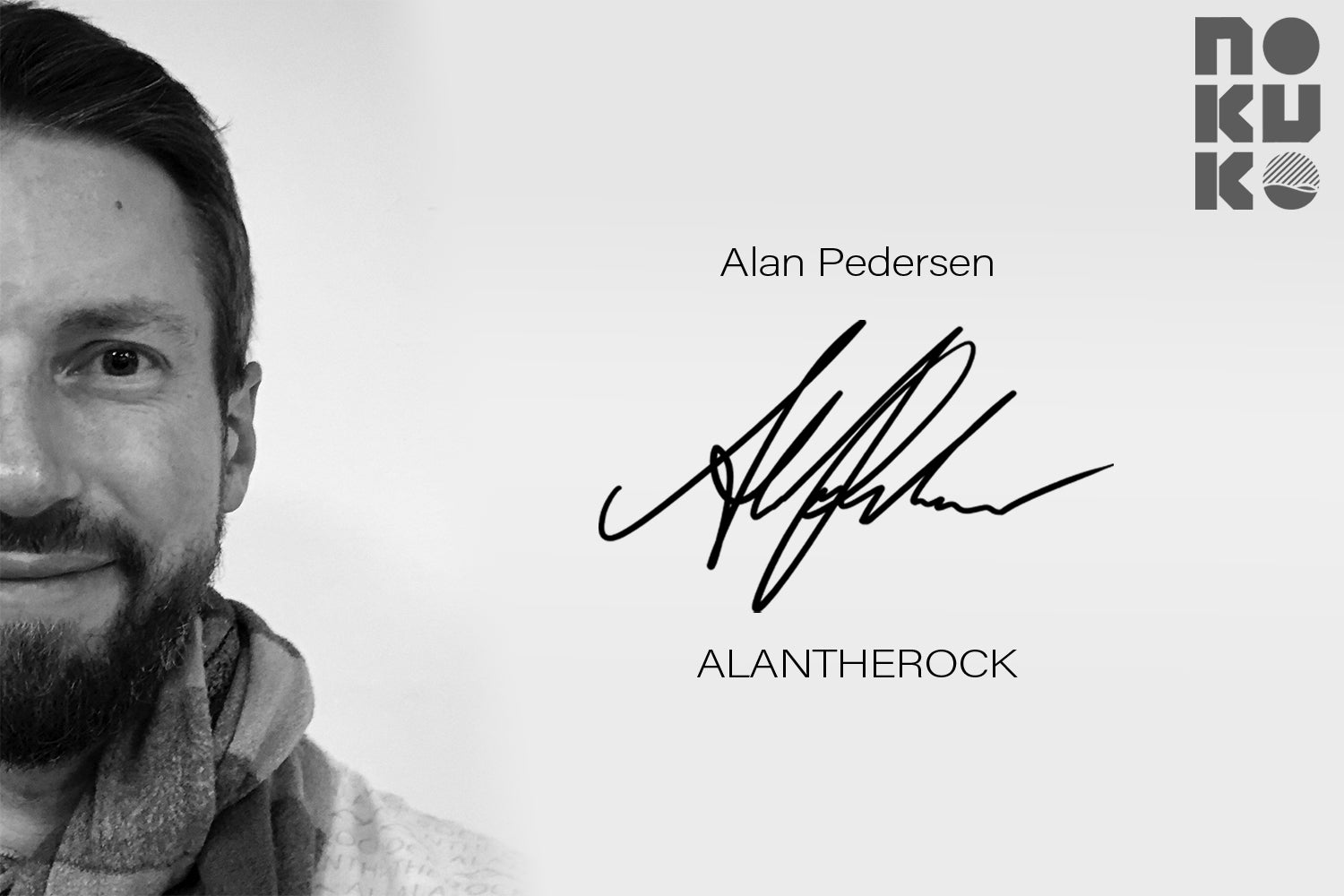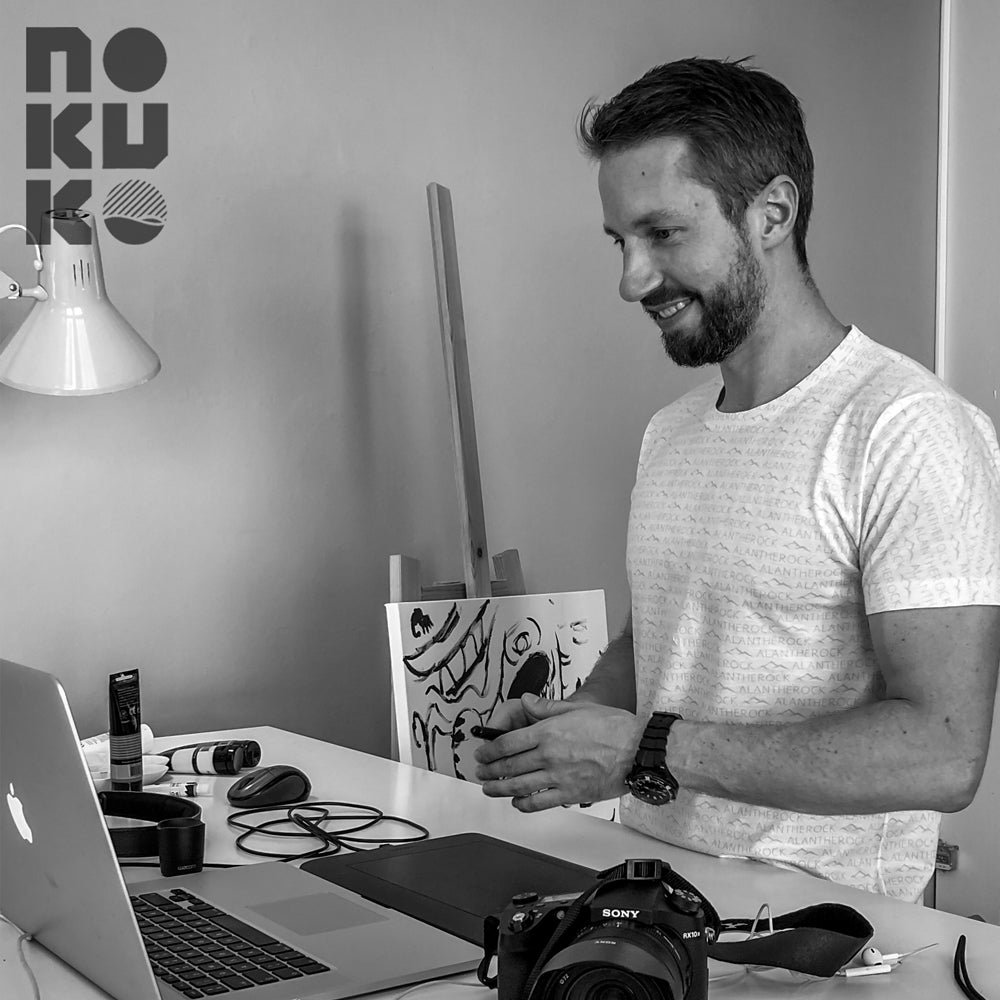 ALAN PEDERSEN - ALANTHEROCK
Ever since he was a child, Alan Pedersen, also known as Alantherock, has used visual expression as a way to reflect and balance his thoughts. Especially during difficult times, it has been beneficial for him to step into the creative mindset. One of these difficult periods in his life became a turning point, and contributed significantly to the fundamental idea of NOKUKO -  an entrepreneurial passion-project echoing Alan Pedersen's belief that dreams are here to be realized.
Written by Anne Mette Steen-Andersen
»When life is sweet, say thank you and celebrate. And when life is bitter, say thank you and grow» - Shauna Niequist. Usually, Alan Pedersen doesn't rely on quotations when he tries to make sense of something in life. But this precise quotation reflects and plays a crucial role in how he has chosen to handle the punches that life has thrown him over the years. And it is how he has taught himself to see the hard times as opportunities to learn, develop, and transform adversity into something constructive. Life hasn't always been kind. It has given him some heavy blows. He lost his father when he was 11 years old and his mother passed away 4 years ago, leaving Alan with very limited biological family and no siblings. But instead of letting darkness and loss dominate, Alan turned his grief into a reminder that life must be lived now. I'm not afraid of death, I'm afraid not to live my life as he describes it.
"My mother had plenty of things that she wanted to do, but never did. I think, that my greatest fear is to be sitting as an 80-year-old man knowing, that I didn't follow my dreams. Time is the least available resource we have - and suddenly it may be too late. I think the loss of my parents constantly reminds me, that it's better to act today rather than to wait until tomorrow," says Alan
That's why there was no doubt in his mind when he got the idea to start up NOKUKO. In the past, Alan has had other entrepreneurial projects, but with NOKUKO the feeling was different: almost like a calling - an entrepreneurial dream he simply had to chase.
As a photographer and an artist, Alan has experienced the challenges of having to sell his own work. He found himself in a jungle of multiple online hubs and platforms where quantity was ranked higher than quality. They were often characterised by a lot of noise, and the associated artists – some of them really talented – underbid each other hunting for the next sale. The artists ended up with a small fraction of the profit, while the platforms got the better end of the deal.
"I knew from the beginning that I wanted to create a platform, NOKUKO, where selected artists who create high-quality art could be involved and encouraged to take part in the creation. I wanted to ensure that their art and passion were well rewarded. And my intention was to create a synergy, where the collaboration in promoting exclusive and high-quality art was in focus - a community hub," says Alan
NOKUKO recognises a wide, well-informed audience, which demands unique, high-quality prints with authentic stories. Conscious consumers, as Alan describes his target market, are people who want more than just prints.
"I strive to make NOKUKO a springboard from where the artists can develop, find inspiration and gain international recognition for their work, and achieve better conditions to reach a wider, more informed audience. This project is based on social-economic driving demand, but also a desire to protect and help artists with the challenges that I have experienced myself," says Alan
Sharing the stories behind the art is NOKUKO's keen focus point, an idea which is highlighted by the business tagline: 'more than prints'. For Alan himself, his art and photographs reflect a need to create a sanctuary for thoughts and feelings. Ever since he was a child he immersed himself in drawing, being curious or lying on his back and finding figures in the clouds. Something, that has followed him his whole life. By establishing a creative space around himself, he finds room to look inward, and to interpret the everyday life that takes place around him and outside this creative space.
"It almost feels like time and space disappear when I stand in front of the canvas or computer. I have no idea where the hours are going and completely lose track of time. For me, using the creative side of the brain is a tool to understand myself better, and to see more perspectives and opportunities. This applies both on a personal and a business level. It allows me to broaden my perspective. It allows me to be more receptive to input. It gives me the strength to open up and develop. Creativity is a valuable contrast to my academic background in International Business and my business-structured life. It contributes to creating a good balance," says Alan and continues:
"Earlier in my life, I wasn't always good to embrace and understand my feelings. I often just shut down and hid them away if they were too hard to handle. For me, that was the easiest thing to do – it was probably due to my former perception of pride and perfectionism. I have worked to change that part of myself, and I still do. It is probably an area where you can always develop yourself if you want to. In accordance with this, my visual expression helps me in many ways. Art is a sanctuary where the process - not the result - is in focus. Working on being more open is also reflected in the art I'm currently creating."
Besides being a place where he can reflect on his inner life, Alan also uses his passion for photography to satisfy his curiosity and capture small glimpses of the beauty of nature. He compares photography to fishing: You go out in hope of catching the big fish, but you'll never know if that's going to happen. Light, time, motif and condition are factors that constantly influence and shape the final result.
"I possess a tremendous curiosity and it has brought me to fascinating places, cultures, and people all around the world. It brings me a lot of pleasure and it is a great inspiration for me both personally and professionally. I'm driven to find motifs that tell stories. Stories from nature, which we must all cherish and which we all have a responsibility to take care of. And stories from ancient buildings, where generation after generation have lived their lives. For me chasing subjects with my camera is almost like a game. My travel companions have all seen me suddenly taking a detour or going out in the middle of the night to catch the right motif," says Alan
It isn't necessarily crucial for Alan whether the observer of his art reads a particular narrative or mood into his motifs. Perhaps even the opposite: a photograph or an artwork tells the observer what they want to see. According to Alan Pedersen, this is one of the fascinating things about art: how the wide variety of interpretations and tastes, provide a foundation for conversations, and how it does not necessarily need to be explained in order to make sense to the observer. It can speak for itself.